Thursday Frolicks!
Greetings pawesome furriends
Welcome to our furry furst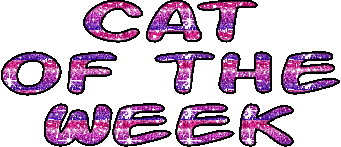 Many concatulations Dezi on being our furry furst Cat of the week
and we're sure our pawesome readers will just love your amazing interview!
Furstly can you tell us a little about yourself?
Me came to live with mommy and sis Lexi when me was about 3 weeks old. An irresponsible breeder got turned in to da shelter for having sickly kitties and a rescue went and snatched me and meez litter up. There was 11 of us and me was da "runt". The rescue organizer knew mommy had just lost a kitty to death and had wanted a Ragdoll so she called mommy up and mommy came running. Okay, she drove, but she probably sped all the way. And me picked her out the minute me saw her. Me was ging home with her one way or another. The rest as they say is history.
Do mew have any fur-siblings and if so, can mew tell us about them?
Sis Lexi was the resident cat when me got here. She's an Egyptian Mau and was rescued by mommy when she was only 15 minutes old. To say she didn't like me at first would be putting it mildly. She tried splatting me, screaming at me, hissing at me and ignoring me; but me was just too stubborn and kept coming back for more. Now we're the bestest friends ever. She's a great teacher, you know we're Service Cats. Not to be mistaken with Therapy cats, as we have special training and work to help mommy continue to live independently. Sis Lexi is 15 years old and still acts like a youngster sometimes. which of course makes mommy smile and be very happy.
What is your most favourite thing?
Meez most favorite thing is sitting in mommy's lap cuddling. After that it would be playing and then freeze dried chicken treats.
What is your most least favourite thing?
Meez least favorite thing is the apartment manager where we live. She's pretty mean to mommy, so me has to give her the Hiss of disapproval.
Do mew have any nicknames?
Mommy sez me has lots of nicknames. Dezi is the first. Meez name is really Deztinee Izabella High. (mommy likes to spell things differently than the rest of the world.) And she also calls me Izzy, Punkin Pie, Sugar Bear, Blue eyed Angel, Honey, Darlin', and lots more.
Are you an indoor kitty or an exploratory outdoor enthusiast/adventurer?
Meez an indoor only kitty and so is Lexi. Altho' me gets to go most everywhere with mommy. Me rides in the stroller that one of our pawsum facebook aunties gave us. And sometimes mommy takes us out for a stroll just because. Lexi and me love it. We get to smell the outdoors and see all the sites while being safely kept away from danger and prying kid hands. MOL
Do mew have a special story to share?
Well as Service cats our typical day starts right away when mommy wakes up. We give her a massage (kneading) to get her blood circulating and then one of us drives her in the wheelchair (cause she can't move or feel her extremities) to the bathroom and then the kitchen to get our breakfast. Me keeps a close eye on her cause she passes out and me has to warn her to sit down so she doesn't fall and hurt herself. When me first came to live with mommy me started alerting right away. Mommy didn't know that's what I was doing at first, but she quickly learned and now she relies on meez warnings. Me gets a feeling me can't really explain, but me knows it means mommy's going to pass out, and me starts patting on mommy and meowing and turning round and round. Mommy calls it a dance, but it means she needs to sit down and relax a while.
What's the wurst thing mew've effur done?
Mommy says Lexi and me are really good kitties and don't really act out, so we don't do a lot of things that typical kitties do. The worst thing me ever did? Hmmmm......Well it's probably a tie between answering the phone and taking it to mommy while she was sitting on the potty and the time when me drove mommy and me in the wheelchair off the sidewalk and dumped us in the snow. Not fun me tells ya', not fun at all. That white powdery stuff is pawful and cold. Me doesn't like snow at all to this day. MOL
Where's your favourite snooze spot?
Me loves to nap in mommy's lap, but when it's bedtime meez favorite place is on the bed right next to mommy.
Do mew have a speshul toy, if so can mew tell us about it?
We got a Cat's Meow last year for Christmas and me thought that was the greatest toy ever, until we got a Yeowww nip nana. And OMC that is the most pawsumest toy ever!!! We like it so much we have 2 of them. Mommy didn't want us fighting over who got to play with it, so we have one each. Although we have both been known to hog both of them. MOL Well, no kitties names on 'em. MOL
Do mew have any speshul skillz?
Part of meez duties as a Service cat include driving mommy's wheelchair, giving her a massage, being able to dial 911, and take mommy the phone. These are just a few of the things me does for mommy.
Are mew supurr creative?
Everybody keeps telling us we ought to write a book, so next year mommy said we were going to work on that and crank out our very own book. Me hopes mommy remembers to call it Dezi's World. After all, it's my world and all the rest of you are just living in it. MOL
What's your favourite time of year and why?
Me loves Christmas and the holidays in general cause that's when me hit the jackpot and found mommy. But me does purrfur the summer cause we get to go out for strolls more.
Me most admires meez sis Lexi cause she's a pawsome kitty. She's still going strong at 15 and is such a great help to mommy. She's an amazing teacher and the best sisfur any kitty could ask for.
If mew could do absolutely anything, what would it be?
If me could do anything in the world.......me wouldn't change a thing. Meez doing exactly what me wants to do and loves to do right now. Meez got a PAWSUM Life and couldn't ask for more. Well me could, but me wouldn't really need it.
Is there anything else mew'd like to share, that we haven't asked?
We wish that we lived in a world where there was no need for rescues or shelters because all animals had wonderful loving forever homes like me has. And we wish that more people were as wonderful and loving as those we've met since being in social media. We also wish that more people would be responsible and spay/neuter their family pets and adopt instead of buy. We are so fortunate to find our mommy and find our way into social media and the hearts of so many. We are so humbled by the love and generosity, support and friendships we have made, and will forever be grateful for each and everyone we've met and never met but share in our lives each day. Thank you so much for the opportunity to be interviewed by you. We so love you and your family and are blessed to be your friends.
Mew can connect with Dezi here:
Furry many thanks to Dezi and not furgetting Lexi, for being here today and sharing their furry special lives with us, thank mew so much, mew guys are just so pawesome and an inspiration to us all!
Well we sincerely hope mew've enjoyed our furst installment of
Cat (or K9 or Bunny or Ferret etc...) of the Week
And if mew'd like to feature here, drop us a line at
deardrbasil (@) gmail.com
with Pet of the Week in the subject line
>^.^<
We'll be back tomorrow with our usual slot of
The Pet Parade Blog Hop
There's still time to join in this weeks hop by clicking the link
Pet Parade #69
We look forward to seeing mew on the morrow
Bestest purrs
Basil & Co xox