Thursday Frolicks
Many greetings our wunderpurr furriends and welcome to this weeks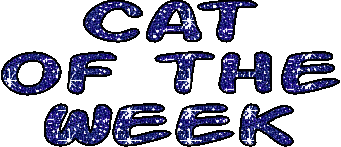 Featuring the totally fabulous
from
Many congratulations Nutmeg!!
Nutmeg is a supurr furriend of mine, we met on Twitter and are both memfurs of #WLF
And here's his interview
Furstly can you tell us a little about yourself?
Mum adopted me a couple of days before Christmas 2002. I had been rescued from the streets by the
Cats Protection and was being cared for by a kind foster lady. I am eleven now, but don't look it! Mum pretty much lets me go wherever I want to in the house. I love high spaces and often sit on top of the boiler in the kitchen, right next to the ceiling. Nighttime I usually sleep with Mum. She doesn't mind me or my fur-siblings being on her bed. She nice like that!
Do mew have any fur-siblings and if so, can mew tell us about them?
I have three fur-siblings. First is pretty little panfur Poppy. She is two years old and Mum adopted her at end of November 2012.
Next is brofur Frankie. He is four years old and is big, handsome grey and white boy. Mum adopted him in June 2013.
Last is my new brofur Jack. He is sleek looking Tuxie boy and is three years old. Mum adopted him last year, on 9 November 2014. Our darling RB brofur Angel Felix knew Mum wanted to offer home to needy rescue kitty and helped her find Jack.
What is your most favourite thing?
Favourite is sleeping on top of the boiler or on (sometimes in) Mum bed.
What is your most least favourite thing?
Least favourite is that during week Mum often out for lot of hours. Really miss her being around.
Do mew have any nicknames?
Mum calls me 'Nutty' and 'Pumpkin Puss' most of time. If she yells 'Nutmeg' that not good!
Are you an indoor kitty or an exploratory outdoor enthusiast/adventurer?
Me is indoor kitty. Got lots of fun toys, two big cat trees and plenty high spaces to explore.
What's your favourite treat or most yummy nom?
Absolutely love Dreamies! So nommy!
Tell us about a typical day in your life?
Me is very proud member of the Whiskas Liberation Front #wlf. Daily patrols are very important to ensure house is secure. Also I always on lookout for ways to help other anipals. Share and RT to try find furever homes for those in shelters. Also help Mum spread word about welfare or animal cruelty petitions. Want to end bad stuff happening UK and worldwide.
What's the wurst thing mew've effur done?
Me done a lot of naughty things over the years. Worst was probably upending kitchen bin (first day Mum left me on my own) and kicking rubbish everywhere. Mum had LOT of clearing up to do that evening!
Do mew have a speshul toy, if so can mew tell us about it?
Fa
vourite toy is Mum's laser pointer. I go crazy chasing after that sneaky little red dot!
Are mew social or antisocial towards your fellow housemates if mew have any?
Me pretty sociable with my fur-siblings. We always nap close to each other.
Do mew have any speshul skillz?
Very good at prying open containers and cupboards. Mum keeps all food out of sight and also put big bolt on kitchen larder!
What's your favourite time of year and why?
Christmas. Mum calls it 'spending quality time together' We always have best time.
Who do mew most admire?
Peeps who work tirelessly to make world happier, kinder and safer place for ALL animals.
If mew could do absolutely anything, what would it be?
Find wonderful furever homes for all homeless anipals and stamp out animal cruelty/abuse once and for all.
Is there anything else mew'd like to share, that we haven't asked?
I just want to say huge thx you to YOU Basil, my
super pawsome furiend, for always sharing and retweeting my posts. Helps me SO MUCH
Also for inviting me to be your 'Cat of the Week' Such an honour.
Mew can follow Nutmeg here:
Furry many thanks to Nutmeg and his furmilly fur being our supurr guest stars, we've really enjoyed your company today!
>^.^<
We sincerely hope mew've enjoyed our
fifth
installment of
Cat (or K9 or Bunny or Ferret etc...) of the Week
And if mew'd like to feature here, drop us a line at
deardrbasil (@) gmail.com
with Pet of the Week in the subject line
DON'T BE SHY
>^.^<
We'll be back tomorrow with our usual slot of
The Pet Parade Blog Hop
We look forward to seeing mew on the morrow
Bestest purrs
Basil & Co xox