The
Pet
Parade
Summer is Here!

Supurr salutations pawesome pals it's [almost] summer!
We decided to take a mini excursion the other day and went on a day-trip to the seaside as a furrmily, and as mew can see from our photo today, this is the heathen hoard vacationing! MOL
Humphrey insisted on wearing his tweed flat-cap and then turned into Mr Grumpy because he dropped his ice cream on his newspaper, he ended up sulking in the beachhut all afternoon. Amber packed effurything but the kitchen sink and spent the entire day between reading her novel making sure that effuryone had their sunscream on, were wearing hats and keeping well hydrated. Angel Posie just did her thing aftur getting a little too hydrated, and snoozed the day away under the beach brolly.
Parsley and Smoochie had a great time, but then they are total heathens so why wouldn't they?! MOL They took their water pistols, an inflatable Shamu, a beach ball, buckets and spades, howeffur I did draw the line at the jet ski's - let's just say they were prepared fur fun. Snowie put a flower behind her ear and sauntered off offur the sand dunes without a care in the wurld, saying she was going to connect and commune with nature...
As fur me, I put on my shades so I'd be completely incognito and cruised around in stealth while partaking in some of the local refreshments.
We all had a terrifically splendid day, apart from Humphrey!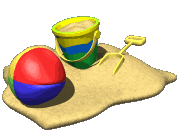 As it was my birthday the same day and my pawty already organized with the invites posted, we sent the P.A. fur a day out. Aren't we thoughtful?! MOL
We'll be posting about the day and what happened next week, lots of pictures were taken, so there's lots to share - sorry to leave mew in suspense but it'll be wurth it!

If mew missed anything this week, here's the latest links fur your purrusal
We'll be back with our usual Selfie Selection on Sunday, so hope mew can join us then.

get the InLinkz code