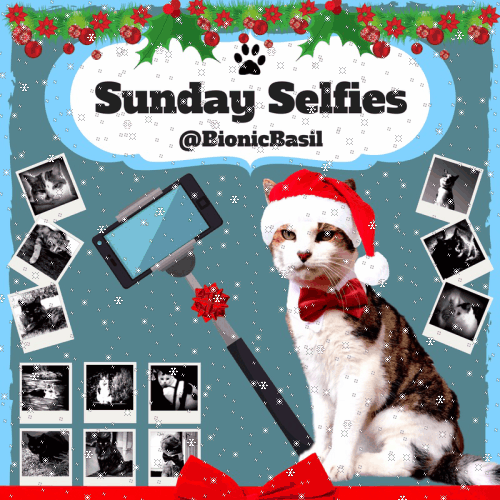 Welcome to our New Years Eve selfie and pawty post.
Pull up a cushion and we'll get mew a drink and some nibbles, would mew like to try a Pawsecco?
Remember our pre-pawty post on Friday?
Where Smooch had invented a new nip drink called the 'Mind Bender'? [Seems like Humphrey shared some of his secrets before he departed!]
Ok, let's continue...
Sometime later...
"Pandora have mew seen Smooch, Parsley and Fudge?" I asked.
"Last time I saw them they were offur there under the big oak tree," Pandora replied in her odd, little foreign accent. "Smooch offured me a shot of his new drink, but I declined!"
"Good move, and thanks Pandora!" I said as I headed off in the heathens direction.
A short while later aftur searching the area and seeing nothing but hearing muffled laughter, I looked up and found him like this:
"What the freak are mew doing up there Smooch?" I yelled.
"Basil dude, mew so need to try this, its EPICALLY EPIC!" Smooch replied as he floated among the trees.
"OMC!"
"Oh dude this is so much better than an out of body experience!"" he whooped. "I'm having an ACTUAL BODY EXPERIENCE!"
Parsley suddenly appeared at my side, emerging like an invisible wraith from the darkness.
"Basil!" he whispered in my ear, nearly making my fur jump off my skin in fright. "Dude, here drink this, mew won't regret it!"
I stared at the proffered glass and saw a rather thick veil of mist eeking into the cold night air, I sniffed it, grinned and took the glass.
"What the heck!" I said and downed the contents.
A few minutes later this was me and the B Team - OOPS - mew can see where this is going, so enough said apart from... PAWTY ON GUYS!!
MOL MOL MOL!
We'd like to take this oppurrtunity to say...
Thank mew to our all fabulous furriends from all offur the wurld fur joining us here in Sweepy Ville to see in 2018, we can't thank mew enough fur visiting us here on the blog effury week, and most impawtantly fur your furriendship and support.
We feel blessed to know each and effury one of mew.
And on that note, we're going to wish mew all much health, happiness and a furry blessed 2018!
Bestest New Years Purrs
Basil & Co xox
Don't furget to join in the pawesome Sunday Selfies Blog Hop with
Lily Olivia, Mauricio, Misty May, Giulietta, Fiona, Astrid, Lisbeth and Calista Jo ~ visit them at their fabulous blog: