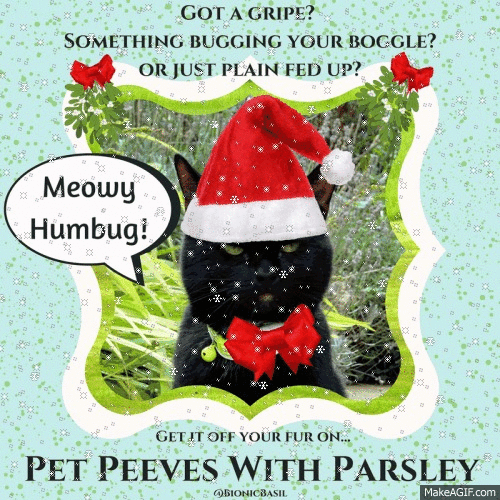 Many greetings pawesome pals
Parsley here *waves paw* and welcome to
Pet Peeves With Parsley
Furstly I must apologize fur being absent, it's not my choice, appurrently 'others posts' are more impawtant than mine - that's why mine get bumped supposedly!
And funnily enough that brings me straight to today's gripe...
Why is it that my posts are the furst to get bumped?
Oh heck no, Amber just heard me....
"Parsley I am greatly displeased my posts are being bumped off too!" Amber said huffily.
'Oh heck no!' I thought and tried to make my escape.
**SIREN BLARES IN MIND**
Logo Design by FlamingText.com
"And did mew know that I sent off a small portfolio of myself to a top London modelling agency," Amber began. "Look here's some of the pics, the ones on the left."
I was still backing out of the door when she insisted I go and look at the photo's. And believe me when I tell mew that I really didn't want to go there.
I took my time, doing a bit of a one-step, two-step sideways shuffle to delay things all the while purraying fur divine intervention of some kind, or just anything, ANYTHING else to be happening right now... a pin dropping, a giant catnip toy rolling by like tumbleweed, Smooch and Fudge coming to my rescue, the P.A. offuring me a small smorgasbord of my favourite delicacies on a silver platter, then hand feeding me, just anything else and not those photo's again!
By the time I got there she was tapping her paw impatiently and giving me a rather withering look.
She pointed to the furst picture. Top left.
"I call that my vacant-kitty look, can mew see how I'm staring at absolutely nothing?" she said enthusiastically.
I nodded trying not to look but having to seem mildly interested and grumbled, "Oh yeah, that's great."
She pointed to picture two. Middle left.
"That's my fun quizzical stare, amazing right?" she gushed. "And the last photo, bottom left, I'm sharing my profile, and doesn't that pompom look tres chic?"
"Just fantastic!" I murmured and began to back away furry slowly, then added. "Amazing!"
"So why the freak didn't that agency sign me up on the freaking dotted line?" Amber snapped. "So much fur my modelling career, it appears Senior Cats aren't en vogue right now, and also I look a good five years younger than my real age!!!"
I mumbled my sincerest commiserations of a modelling career that never was, or will be and ran.
So my simple easy-peasy gripe became Amber's tirade, and that is:- the modelling wurld is biased towards aging cats who are ginger and white and wear strange and really bizarre furry fetching and most complimentary hats.
What can mew say to that?! MOL
* * *
WOO HOO finally I am getting to join in the Caturday Art Blog Hop again with...